Place
206 N Cannon Blvd, Kannapolis NC 28083
Price
$400
Registration Fee:
$50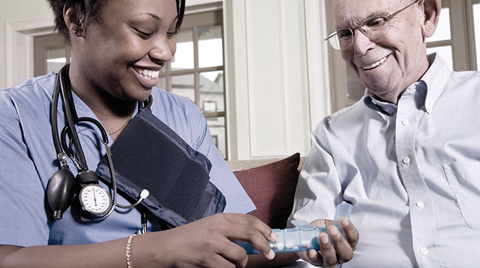 The purpose of the Medication Aide position is to provide a safe way for individuals other than licensed health care professionals (doctors, nurses, etc.) to provide medications to individuals who are not able to take medications by themselves. Medication Aides assist with the provision of medications.
State laws control the activities of a Medication Aide. These laws ensure the health, safety, and welfare of people by providing for the accurate, cost-effective, efficient, and safe utilization of Medication Aides to assist in administration of medications.
The Medication Aide training program covers the basic preparation for administration of medications by unlicensed persons in a skilled nursing facility setting. It is a 24 hour class. Students who complete this program will be eligible to take the North Carolina Board of Nursing Medication Aide Exam.
Medication Aide Program Info
The Medication Aide certificate curriculum is designed to allow students to complete training in as little as 24hours of class.
Students at Southern College of Health Sciences (SCHS) benefit from our hands-on approach to learning, smaller class sizes and a faculty that cares about their success.
Course Objective
Understand and perform basic competencies required to safely provide medication by oral and topical routes, by inhalation to the respiratory system, and by instillation in the eyes, ears, and nose
Be able to perform additional skills needed to support medication administration
Define key terms
Recognize how a drug is absorbed, metabolized and excreted from the body
Discuss factors which can affect how drugs are used in the body
Recognize the medication aide role in recognizing, recording and reporting allergic reactions to drugs
Identify the actions of specific drugs
Med Aides are qualified to work in a variety of settings, including:
Skilled Nursing Facilities
Rehabilitation centers
Assisted living facilities
Medical offices
Home healthcare
Professional Organizations : North Carolina Board of Nursing
About the Certified Medication Aide Course
This course is 24 hours and attendance is mandatory for all hours.
Syllabus, course schedule and text are provided to the student on the first day of the course.
Participants are provided with content and hands-on experience, which prepares the student to sit for the NC state board of nursing licensing exam. No credits are offered for this program, but students will receive a certificate of completion.
Medication Aide Program Admissions Criteria
Minimum age of 18
Must be a certified nursing assistant (CNA)
Ability to read, write, speak and understand English
Competent in basic mathematics skills
Proof of current certification in American Heart Association Basic Life Support for Healthcare Provider
Demonstration of good physical health and the ability to lift 50 lbs
Cost – Tuition: $400, Book: $50, Tools: $55, other costs: $105